Digital transformation has been called a necessary disruption to the business world. With device and data protection, personalization, and exceptional customer experiences driving business success or failure, the necessity of digital transformation is clear. It's steadily swept through the corporate landscape over the past several years, finally reaching mainstream status in 2019. Businesses avoiding the inevitability of their legacy technology dragging them down are now at risk.
According to the IDC, at least 65 percent of all technology spending in a company occurs due to digital transformation. Many organizations are making significant technological changes to bring their office into the 21st century.
Are you staring down digital transformation in your own business? It can be a daunting process, but with the right technology and expertise, it's not. Read on to learn why digital transformation matters and how ImageNet Consulting can help.
Is your office technology stuck in the 80s? Use the calculator to find out.
What is Digital Transformation and Why is it So Important?
Digital transformation is the process of integrating digital technology into all aspects of business, requiring fundamental changes in technology, culture, operations, and value delivery. It's not simply installing the latest operating systems and stocking the office with the newest computers. Instead, digital transformation seeks to transform business processes to make them faster, more efficient, and more impactful so that employees have more time to focus on the customer experience.
The average consumer is a digitally literate, technologically savvy individual who expects brands to meet them on the same level. These customers expect things like:
A functioning digital presence: Companies need a competent digital presence, such as a website fully optimized for mobile. If it doesn't work on mobile, it doesn't work – and the customer will move on to one that does.
Easily accessible information: Some 87 percent of all purchases now begin online. Companies that don't prioritize making knowledge of their products or services available online are missing out.
A personalized experience: Personalization is a powerful tool that positively impacts revenue. If it's not personalized, people won't feel that what a company has to offer is relevant to them.
Organizations are waking up to the reality that the world is almost wholly digitized, and that business as usual simply won't cut it in this new future. Digital transformation matters because it keeps a company relevant, efficient, and agile in an accelerating landscape.
4 Signs That Your Company Needs a Technology Refresh…Yesterday!
In the 21st century, every company relies on technology to operate. Those who lag on adopting modern hardware or software put themselves at a competitive disadvantage. Is your organization's technology game up to speed? Here are four signs that it's not.
1. The IT Department Resembles a Throwback to the 1990s
The IT department plays a critical role in a company, ensuring that all of the technology the business relies on stays functional and secure. An IT department without the right tools is an ineffective one. If the IT department is using outdated tools for cybersecurity, lacks monitoring capabilities for networks or printers, and seems perpetually unable to address support queries, then it's time to look into an update.
2. Managed Services Are a New Concept
Managed services have been around for close to 20 years, though they've only grown popular in the past decade. As early as 2016, it was estimated that 64 percent of companies used managed services of some sort. Managed services, like managed IT or managed printing, deliver more powerful capabilities at a fraction of the cost of traditional acquisition. Failing to use them may mean more expenses associated with upkeep and limited access to the right technology.
3. Sustainable Initiatives Are Nonexistent
Customers overwhelmingly care about sustainability – at least 73 percent of millennials will choose a sustainable brand over a non-sustainable one even if it costs more money. As a result, many businesses now actively look for ways to demonstrate a commitment to environmental stewardship and sustainable practices.
4. Another Hacking Attempt Occurs Every Week
Cyberattacks against companies have been on the rise forever, but they've reached a critical mass over the past few years. Symantec's latest report indicates that hackers are cleverer, bolder, and more tenacious than ever. Is investigating the most recent cyberattack becoming a regularly scheduled item like the weekly standup meeting or Friday casual shirt tradition? It's time to look into that.
How ImageNet Consulting Can Help
The workplace of the future is digital, and ImageNet Consulting can help. Digital transformation may mean significant investments in new technology, whether that's hardware or software. With so many options available, choosing the right combination of tools and services can be difficult. Likewise, installation, configuration, and adoption of these new technologies offer their own challenges.
ImageNet Consulting offers a range of services and products to make a digital transformation as stress-free as possible.
1. Software Solutions That Support Operational Efficiency
Digital transformation drives operational efficiency, letting employees get more done faster, with fewer errors. ImageNet Consulting offers several software solutions to support this, including:
Enterprise content services: Create streamlined processes that keep documents or content accessible, secure, and able to provide valuable business intelligence.
Migration and integration services: Get assistance with migrating legacy processes to new software or integrating new technology with existing processes.
Training: ImageNet Consulting's professionals will help employees adjust to new software, training them to reduce frustration and disruption.
2. The Right Devices for the Job
Don't take the attitude that if it's not broken, it doesn't need to be fixed. ImageNet Consulting can help identify opportunities for device upgrades to unlock new abilities to drive greater efficiency.
For example, modern multi-function printers combine the abilities of multiple devices into one, reducing the amount of equipment in an office while delivering all the capabilities an office needs. Likewise, the introduction of new technology like digital signage can create a more engaging experience for customers.
3. Managed Services to Lighten the Load
Managed services are a valuable component in any business environment. They can provide the expertise and technology necessary for a business to succeed at a fraction of the cost. Consider bringing managed services on board if:
The IT department is overwhelmed: Managed IT services can step in to provide support to alleviate a stressed-out department, taking over tasks that are either too mundane or too complicated for internal personnel.
The company is struggling with its printing needs: Managed printing services will streamline the print environment, introduce better tracking, and help a company reduce its reliance on paper.
New Decade, New You: Greet 2020 With Successful Digital Transformation
The workplace of the future will mean greater efficiency, faster processes, and fewer errors. Digital transformation is the means to get there. However, digital transformation isn't as simple as upgrading the computers and calling it good. The process has significant impacts on the way the organization itself operates.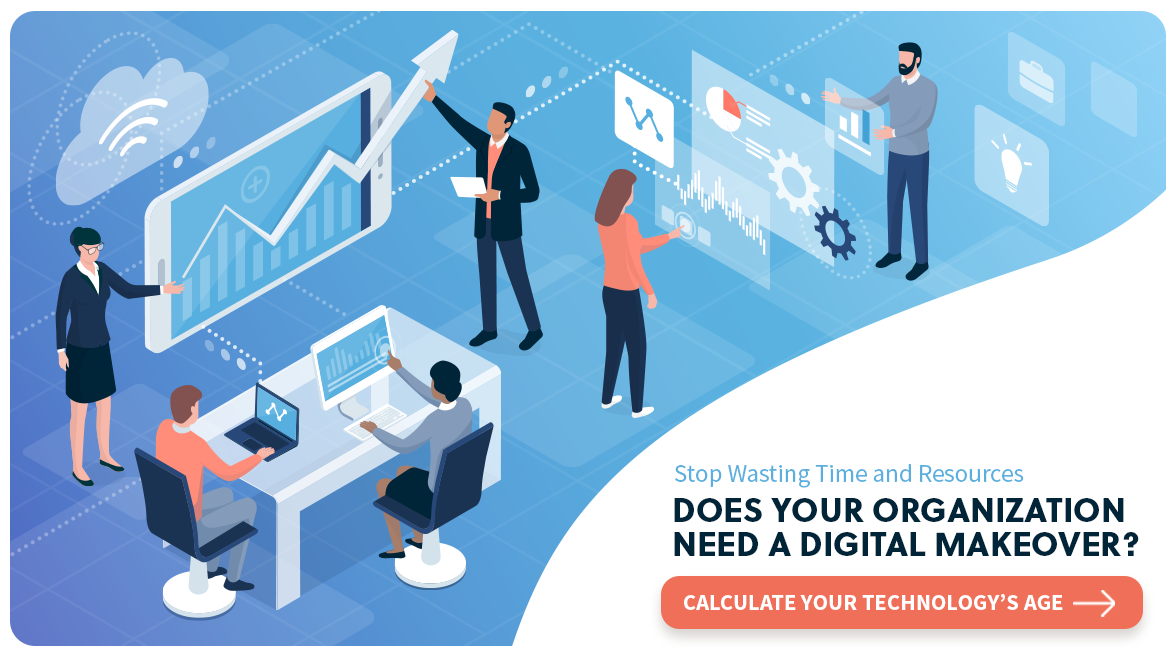 Having a technology solutions provider involved can significantly improve the chances of a successful transformation. Get started on the right foot with a business technology expert.
ImageNet Consulting helps companies transform digitally. Contact us today to discuss your organization's unique challenges.