Tips for Businesses Reopening the Office
Businesses are finding new ways to keep operations running while continuing to social distance. Some businesses are reopening their offices to small numbers of staff, while some are continuing with remote work for the foreseeable future. Either way, going back to "normal" is not an option. As we work collectively to regain a semblance of structure within our work in this new environment, the number one priority of businesses should be the safety of both employees and customers.

Safe Work Protocols: Err On the Side of Caution
Seattle-based venture firm Madrona Venture Group surveyed local employers on their reopening procedures and tips to create a guide for other businesses. One guiding principle they mention is to remember that reopening a business is a marathon, not a sprint. Follow guidance from your state and local leadership and use resources from the Centers for Disease Control and Prevention (CDC) for simple measures to implement. Get feedback from your business management, employees, and fellow business owners. Most importantly, keep the goal of safety and prevention in the foreground of your plans. Even as the vaccine is distributed, we've still got months to go before everyone is vaccinated. Planning your reopening now and communicating each phase of reopening to your employees is key.
Technology to Help You Reopen Your Business
Safe work practices and policies will help you and your staff stay healthy, but technology can help you streamline your new procedures and ease the burden on your staff. We've created new service programs to help you get back to business.
1. Digital Displays & Signage
At the ImageNet offices, we rely heavily on digital displays to communicate updates and news to our staff and customers. Now, we use these displays and other signage to promote our safe work environment with reminders to socially distance, wash hands, and wear a mask.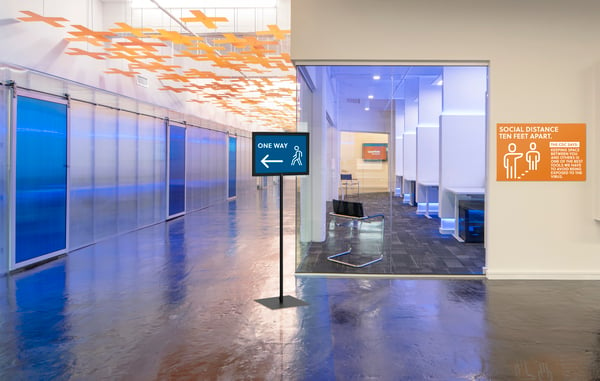 2. Sensor Technology For Digital Displays
A new advancement for digital display integrations is sensor technology. Wallboard, a cloud-based digital signage platform, integrates sensors into digital displays to trigger specific content in the Wallboard system.
Movement Sensors: For example, when an employee or customer walks by a screen, a movement sensor can trigger a reminder to stay six feet apart from other employees. Additionally, when someone enters your office building, the movement sensor can trigger a reminder to wear a mask.
Distance Sensors: Distance sensors can trigger specific content to play once a user is within a certain distance from the screen.
IoT Sensors and Mask Detection: IoT sensors use AI to pull data in real-time and respond. With this technology, sensors use real-time detection to determine if a user is wearing a mask. If no mask is detected, content is triggered to remind them to put on their mask.
Wayfinding Technology: Hospitals, airports, shopping centers, college campuses, office parks, and businesses with large campuses require sophisticated wayfinding systems to help visitors and employees navigate. With a custom, interactive wayfinding system built into displays and kiosks, you can cut down on unnecessary traffic and confusion by providing an easy-to-use tool to help users find their way.
The most important tool you can leverage for your hybrid workforce. With ECS, you can
create a content ecosystem that is secure yet accessible from any device with the right credentials. E-forms, automated workflows, document routing, and tools to track productivity and workflow obstacles create a productive work environment for both in-office and remote staff.
Get better IT security across your infrastructure for your remote and in-office teams and peace-of-mind for you. Managed IT services help you maximize uptime for a workforce reliant on your IT systems and digital assets.
What We're Doing at ImageNet Consulting

ImageNet offices are widespread in seven different states, so each location is under different state and local rulings and guidance. Our first step: Ensuring we're following those state and local guidelines, as well as the CDC's recommended procedures, at each of our offices.
Our daily operations look much different than before COVID-19 and our work protocols will remain flexible. We have a limited number of staff working in our offices currently. We've embraced remote work and left the decision on returning to work up to our staff once they feel comfortable. With only a small number of staff in the office, we're able to adjust our work safety practices as needed.
Equipment for Employees: Face masks, hand sanitizer, gloves.
For any employees who feel comfortable returning to the office, we are providing face masks (one for every day of the week), hand sanitizer to keep at their desks, and a box of gloves to wear as they see fit.
Changes to Our Office: One-way paths, limited access to communal spaces, additional spacing between desks.
Using our digital displays and printed signage, we have transformed our office to promote safe work practices.
Hallways and stairways are now one-way paths, with reminders on the walls and arrows on the floors for directional assistance.
Communal spaces like our breakrooms are now limited to four people at a time.
Conference rooms are closed, and all meetings are conducted either over video conference or phone call.
Employees' desks have additional space between them to ensure at least 10 feet of space around their desks.
Changes to Our Operations: Remote Working, Flexible Shifts
Remote work continues to allow our staff to work safely and securely from home. While many of our employees were already able to work from home, we've taken additional measures to ensure that anyone whose job allows them to work from home, can. Providing the right tools and technology to keep our employees productive while at home was only part of our shift to remote work. Another step was updating our staff on proper cybersecurity policies, such as signing into the VPN from home.
Reminders and Reinforcements of New Policies
One helpful tip we've implemented is simply the reminder and reinforcement of our work safety measures. While having personal protective equipment (PPE) for employees is an obvious must-have as businesses reopen, gently reminding employees to use their PPE is necessary until it becomes a habit.

We've placed reminders throughout our offices about our new work safety measures. Both static and digital signage line our hallways and offices with reminders about always wearing masks, staying at least six feet apart, and frequent hand washing. We're also encouraging our employees to remind one another about the importance of these measures. A Harvard Business Review article recently found that while many businesses focus on providing PPE and initially providing employees with recommended health practices, "if noncompliance is rarely addressed, healthy behavior becomes a joke."
Addressing non-compliance must come from everyone – from the newest hire to c-level leadership.
Employee Morale
In difficult times like this, it's important to keep teamwork and encouragement top-of-mind. Without every day, in-person interactions with our co-workers, we can begin to feel isolated. To battle this isolation and keep teams engaged, we have implemented weekly team meetings, calls, and training sessions for our various departments. These meetings keep everyone connected and on the same page and give our team members time to collaborate and voice any wins, concerns, or ideas they have.
We're developing new initiatives to keep businesses running smoothly with a remote workforce or hybrid workforce. We are striving to help our customers adapt, keep our employees safe, and provide assistance to our communities, and we're here to to help you find the best way to reopen your business.
Contact us today to learn more about the technology to help you reopen your business and how we can help you find solid footing in today's environment.