Let's call it the "Return to the Office" instead of "Return-to-Work". Because we know you never stopped working. In fact, you may have worked more hours than ever before to keep up with demand, while assisting your coworkers and customers with their work-from-home obstacles.
In March of 2020, the transition from working in the office to remote work was fast and imperative. The inherent speed of this transition left innumerable questions in its wake.
First, there were questions of which positions and tasks could be done from home. Then, we collectively guessed at how long remote work was viable for those positions. Paired with these questions were technology needs. Laptops, printers, headsets, speakers, large displays – what could move from the office to an employee's homes? What came next were questions – and risks – with security.
According to Deloitte, 64% of businesses are planning a physical return to the workplace—either fully or in a hybrid capacity—in 2021. As offices reopen, what steps should you take to ensure your business processes and IT security are up to snuff? We will discuss two key technologies you'll need to enable a better, smarter, more secure business in 2021.
Automation: Power Your Business Forward
Business process automation. The power to accelerate the way work gets done by taking repeatable, everyday tasks and automating them. What businesses rely on most as they take the next step in this transition is automation. Why? Business process automation takes tasks and processes that already exist and makes them faster, better, and more efficient. Whether that means automating the process of receiving and routing invoices or automating the way you print documents at the printer, automation drives efficiency in business.
Automation and Accessibility
One especially powerful way business process automation boosts the hybrid workforce is the ability to automate workflows regardless of location. Using tools like cloud storage and workflow automation, seamless automation occurs whether you're working in the office or at home. Billing approvals, employee onboarding, contract management, and managing electronic forms all receive an improved workflow with fewer steps, fewer clicks, and less waiting with workflow automation.
Managed IT Services and IT Security

With a heavier reliance on remote work, home life inevitably bled into work life. Security strategies meant for the office were suddenly extended to the home office, but with less oversight and control. Cybersecurity strategies didn't keep up with the new work environment and fileless malware rates in 2020 increased by 888% over 2019, according to WatchGuard's Q4 2020 Internet Security Report.
Endpoint Security
A key focus for IT security as employees return to the office is endpoint security (or device security). Returning to the office may seem as simple as adding your morning commute back to your routine. However, the laptops, tablets, and smartphones returning to the office may pose a significant threat to your network. You'll need protocols to determine if these devices may be compromised. Knowing things like if the device was connected to any public networks, if any files were stored on a removable device, and how long the device has been running without a restart offers clues to the risk the device poses.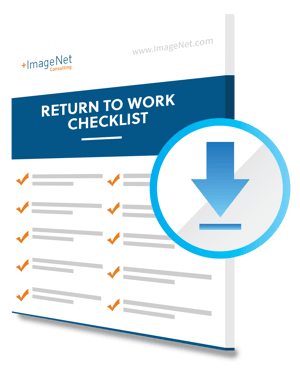 Download our Return-to-Work Device Checklist for a checklist to follow for each device that returns to the office and steps to take to secure those devices.
Managed IT Services
We've previously discussed the strain on IT teams felt as they rolled out VPN and multi-factor identification to support newly remote teams and secure the network early last year.
Managed IT services help alleviate strain on your internal IT team members by adding a team of experts to shoulder some of the burden and plan for the next pivot. Whether you need assistance building return-to-work guidelines and protocols, retraining employees on cybersecurity best practices, or with your helpdesk, Managed IT services provide an extended IT arm of your business to help manage your IT.
Automation and IT Security for Your Business
The constant pivoting and adjustments required by businesses in 2020 will continue throughout 2021. Prepare for the next step - return to the office - with the technology to empower your employees to seamlessly work from anywhere, and the IT security to keep your business and data safe.