Paper waste is one of the most persistent – and most preventable – operation costs in the modern office. Especially in the age of cloud storage, enterprise content management, and mobile-first communication, there are more ways than ever to share information and store data without paper.
Yet, office employees have a tendency to take print equipment for granted. The familiarity of printing a document rather than keeping it in an electronic format may seem easier to some employees. However, if "easier" doesn't translate to "more productive and efficient," then it's time to make a change. Fortunately, there are several easy ways small businesses and large-scale enterprises alike can reduce paper usage in the workplace.
In 2021, reducing paper use in the office is a must. Relying on legacy technology and paper processes only holds businesses back and frustrates employees. With the added development of remote employees and hybrid work environments, moving to a digital workflow for your data is key to a better, brighter future for your business.
How to Reduce Paper Usage in the Workplace Starting Today
The benefits of reducing paper use go further than downsizing the cost of print consumables or saving space. Using less paper can also lead to significant improvements in office productivity and security. Switching from paper-based processes to digital opens the door for greater security in your data and documents, saving on costs associated with printing, storing, and managing paper. Moving to a paperless system paves the way for workflow automation opportunities that can boost the bottom line.
Get our "Reduce Paper in the Workplace" guide today, and read on for more insights on what you can do to reduce paper in your office.
1. Give Employees Dual Monitors
It might seem like giving employees dual monitors is more expensive than letting employees print papers, but this assessment misses an important point. Dual monitor setups not only reduce the need to print documents, they make manual data transfer much simpler than paper. A study by Dell found that dual monitors boost productivity and user satisfaction, leading to compounding workplace benefits overall.
2. Implement a Duplex Printing Rule
By printing on both sides of every sheet of paper, office managers can effectively half the number of pages in every office print order. Creating a duplex printing rule means creating a print policy that employees must follow. This can lead to other opportunities to cut down print costs, as well. Speaking of print policies…
3. Enforce a Print Policy
In order to reliably and consistently reduce paper usage in the workplace, office managers must communicate their expectations clearly. A print policy lays out the rules around printing in your office. Successful print policies illustrate how employees can save paper, describe which documents are okay to print, and what kind of printing is appropriate for each document type. For example, a good print policy forbids printing emails and allows color printing only for customer-facing documents.
4. Use Company Culture to Empower Employees
If reducing paper use remains a top-down initiative that management pushes on employees, it is unlikely to produce significant results. Allow your employees to take ownership of your business's environmental sustainability so they can auto-regulate their own usage of print materials without constant reminders. Making your sustainability efforts part of your company's culture helps your employees share in the overall mission of recognizing and reducing waste in your operations.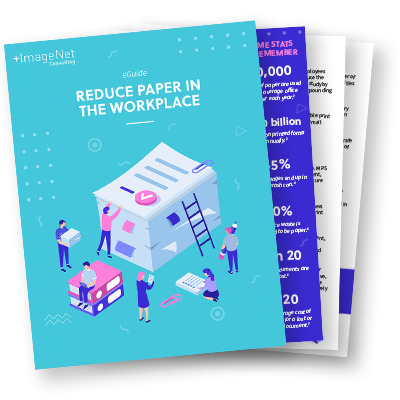 Download the "Reduce Paper in the Workplace" guide today!
5. Reduce Print Margins and Font Size
Another easy way to reduce print volume is to fit more information on every piece of paper office employees print. By reducing print margins and font size, office administrators can make a difference in the overall consumption that high-volume print orders usually entail. Enforcing these rules requires giving administrator access to employee user profiles.
6. Deploy Modern Printers and Copiers
Obsolete print equipment is one of the primary obstacles to implementing sustainable print practices. Businesses that use sophisticated print tracking software like PaperCut enjoy an enormous advantage over those who don't. Similarly, modern multi-function devices reduce paper usage through scan-to-cloud functionality, optical character recognition, and more.
7. Deploy Automatic Electronic Backups
Managers, employees, and even executives are often guilty of printing their own paper backups of important documents, typically with the iron-clad "just in case..." motive. While losing documents is certainly frustrating and expensive, this action means that employees don't have faith in their document management system. Deploy a robust system with document versioning and disaster recovery and employees will learn to rely on it instead of printing their own backups.
8. Utilize Managed Services in Your Business
Many of the items discussed in this article are part of a larger system of services already available to businesses. Managed Print Services (MPS) represent a suite of services related to printing, including device management, document and device security, printing software, and document workflow. MPS reduces downtime in your print devices, establishes hygienic, secure print policies, utilizes top-of-the-line print hardware and software, and provides outside expertise on print management and security.

Enterprise Content Management (ECM) includes automated workflows, lifecycle management, and information governance. With features like document capture, federated search, and automatic routing built into Enterprise Content Management systems, paper documents and filing cabinets are rendered obsolete and printing is reduced.
Start Reducing Paper Usage in the Office
Effectively managing paper usage is critical to keeping office costs low and productivity high in 2021. Expert consulting on the right technology for your business can help make that happen. Streamlining workflows to reduce paper usage in the workplace save offices up to 20% on print costs.
It's time for your organization to spend less time and resources on paper-oriented data processes. Schedule a call with one of our digital transformation specialists today to find out how!